Form of Government
The City of Richland has a Mayor/Board of Aldermen form of government with a mayor and five aldermen all elected at-large. This assures widespread representation of all citizens in municipal decision-making. Thoughtful stewardship and careful planning have enabled the city to keep pace with the commercial, industrial, and residential growth the area has experienced in recent years.
The Mayor and Board of Aldermen meet twice a month; on the first and third Tuesdays at 5:00 p.m. for Work Sessions, 6:00 p.m. for Board Meetings. Both the Work Sessions and the Board Meetings are open to the public. City offices are open from 8:00 a.m. to 5:00 p.m., Monday through Friday, with the exception of the following State and Federal holidays: New Year's Day, Martin Luther King and Robert E. Lee's Birthdays, Presidents' Day, Good Friday, Memorial Day, July 4th, Labor Day, Veterans' Day, Thanksgiving, and Christmas.
Location
Richland is conveniently located in Rankin County just across the Pearl River from Mississippi's capital City of Jackson. Strategically bisected by U.S. Highway 49 South, and bordering on the intersection of Interstate Highways 55 North-South and 20 East-West and minutes from the Jackson International Airport, Richland is the hub of a thriving transportation, warehousing, and distribution industry.
Commercial Property Opportunities
In addition to location, the City of Richland Ad Valorem tax rate is among the lowest in the Jackson-Metro area at 19 mils, which makes Richland an excellent place to grow a business.
Available Commercial Property Inventory
Demographics
The total population of Richland according to the 2020 Census is 7,137. This number represents a +3.2% change since 2010. ACS 2019 estimates for Richland show the population is made up of 3,609 males (50.2%) and 3,566 females (49.7%). Median resident age is 35.1 years.
The population of Richland is comprised of (67.9%) White alone; (19.9%) Black alone; (2.2%) Asian alone; (4.8%) Two or more races; (4.7%) Other races alone.
Estimated median household income in 2019 was $47,495 (it was $40,143 in 2009). Estimated median owner-occupied house value in 2019 was $131,000 (it was $95,727 in 2009).
According to the Mississippi Department of Revenue Annual Report for fiscal year 2020, Richland's gross sales were $558,977,928 and gross taxes were $37,187,983.
The City of Richland Flag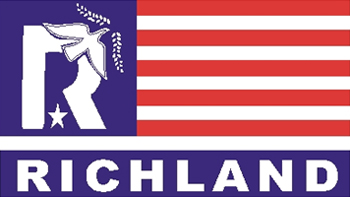 Richland is a forward-thinking community, rich with loving citizens, filled with pride and American Patriotism, dedicated to peace among all people and devoted to God and Country.
Elements of the Richland Flag
The DOVE represents Peace, Love and Harmony among our citizens. The colors RED, WHITE AND BLUE symbolize our American Patriotism. The five RED STRIPES represent the five Aldermen in Richland. The STAR stands for a City guided by its Mayor and Aldermen, striving for a brighter future. "R" stands for Richland and its strong religious faith.