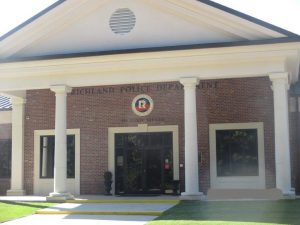 Police & EMERGENCY 9-1-1
For emergency police, medical, or fire services, dial 9-1-1. Emergency personnel will be dispatched immediately. Caller name, address and telephone number appears on a separate screen.
Address:
911 Town Square
Richland, MS 39218
Crime Prevention
The Richland Police Department is concerned with preventing crime and solving problems in partnership with all residents. Officers are available to discuss home / neighborhood / personal security as well as specific topics concerning residents.
Message From the Chief
Dear Friends:
Thank you for visiting the City of Richland's Police Department page. As Chief of Police, my team and I are striving to make as many of our services as convenient and easily accessible to the public as possible, so residents will be more inclined to interact with their police department. We in no way want to limit the face-to-face contact that we currently enjoy with our community, but rather hope to better direct our citizens to the proper personnel, thus saving time for both the public and the police. If the Chief's office can be of any assistance to you, please don't hesitate to contact us.
Remember to always stay safe and may God bless you,
Nick McLendon
Chief of Police
Click on the below link to pay your court fees

www.CityofRichlandcourtpay.com
Call in to pay by phone in our bilingual call center at 1-601-326-2854.