The Special Weapons and Tactics (SWAT) team is used when all other means of "service and protection" are exhausted by Patrol Operations. The SWAT team consists of a negotiator, two snipers, a driver, and several other key members. The City is honored to have a group of men who are dedicated when expectations are exceeded beyond normal situations.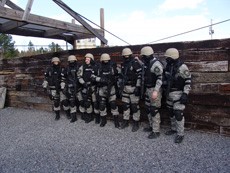 Law enforcement officers are trained to save lives. This applies to high-risk tactical operations also. Society has changed over the years and so has law enforcement techniques. When an incident is measured beyond normal capabilities for Patrol Operations, the SWAT team is called to contend and defuse the situation at hand.
Since its inception in 2006, the SWAT team has endured many obstacles. Every member is certified through the State of Mississippi Basic and Advanced SWAT schools. Each member has to qualify; and re-qualify every year. Standards for SWAT team members are at a degree of difficulty not fit for normal physical and mental aspects. Extensive training is paramount. The members are very proficient and have a knowledge of many different types of weapons, which includes lethal and non-lethal weapons.
Specialty areas:
High risk warrant
Barricaded subjects
Vehicle assault
Suicidal individuals
Officer rescue
Surveillance operations