Form of Government
The City of Richland has a Mayor/Board of Aldermen form of government with a mayor and five aldermen all elected at-large. This assures widespread representation of all the city's citizens in municipal decision-making. Thoughtful stewardship and careful planning have enabled the city to keep pace with the commercial, industrial, and residential growth the area has experienced in recent years.
The Mayor and Board of Aldermen meet twice a month on first and third Tuesdays at 6:00 p.m. and welcome public attendance. City offices, located in the City Hall at 380 Scarbrough Street, are open from 8:00 a.m. to 5:00 p.m. on weekdays.
To place an item on the agenda, contact City Clerk Karen Jackson at 601-932-3000.
Location
Conveniently located in Rankin County just across the Pearl River from Mississippi's Capital City of Jackson, Richland is strategically bisected by U.S. Highway 49 South. Minutes from the Jackson International Airport and bordering on the intersection of Interstate Highways 55 North-South and 20 East-West, Richland is the hub of a thriving transportation, warehousing, and distribution industry.
Demographics
The population of Richland as of 2011 was 6,935. This number represents a +15.1% change since 2000. The population is made up of 3,399 males (49.0%) and 3,536 females (51.0%). Median resident age is 33.4 years.
The population of Richland is comprised of (77.4%) White alone; (14.5%) Black alone; (5.4%) Hispanic; (1.7%) Asian alone; ((o.8%) Two more races; (0.2%) American Indian alone; (0.1%) Native Hawaiian and other Pacific Islander alone; (0.09%) Other race alone.
Estimated median household income in 2009 was $40,143 (it was $38,996 in 2000). March 2012 cost of living index in Richland was 86.1 (less than average, U.S. average is 100). Estimated median house or condo value in 2009 was $95,727 (it was $65,100 in 2000).
From the Mississippi State Tax Commission Annual Report for fiscal year 2012 Richland's gross retail sales were $4,243,651.
Banks with one or more branches: 5
Nearest Commercial Airport and its location: Jackson-Evers International, Jackson, MS
(about 9 miles)
Nearest Public-Use airports: Hawkins Field, Jackson, MS (about 9 miles)
Bruce Campbell Field, Madison, MS (about 15 miles)
John Bell Williams, Raymond, MS (about 18 miles)
Richland Flag Representation
Richland is a forward thinking community, rich with loving citizens, filled with pride and American Patriotism, dedicated to peace among all people and devoted to God and Country.
Elements of the Richland Flag
The DOVE represents Peace, Love and Harmony among our citizens. The colors RED, WHITE AND BLUE symbolize our American Patriotism. The five RED STRIPES represent the five Aldermen in Richland. The STAR stands for a City guided by its Mayor and Aldermen, striving for a brighter future. "R" stands for Richland and its strong religious faith.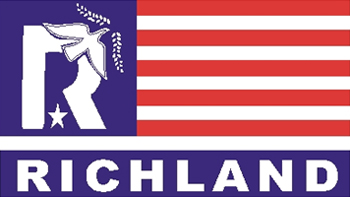 The original sketch for the City of Richland flag was done by John L. Morris on February 21, 1991.