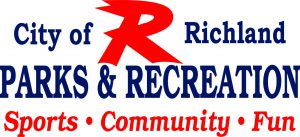 The City of Richland Parks and Recreation Department believes in the benefits of participating in organized programs. Participation in Sports activities for younger people helps prepare them for their futures in life by teaching how to work with others as well as determination to succeed. It helps build self-esteem as well as the body and mind. Therefore, it is our goal to offer the most programs for the most people while maintaining a top notch and wholesome environment and excellent facilities.
The Parks and Recreation Department is located at 410 East Harper St.
601-487-9989
Office hours are Monday through Friday, 8:00 am to 5:00 pm.
Follow us on Instagram and Twitter – Richland Parks and Rec.   Also, be sure to "Like" us on Facebook to stay updated with all the latest events & activities Parks & Recreation has to offer! www.facebook.com/richlandparksandrec
Cole Smith – Director
Guy Smith – Assistant Director
Tammy Morgan – Administrative Assistant
Jeff Payne – Park Supervisor
David Malley – Field Maintenance
Brandon Kyles- Field Maintenance
Robert Phillips –Field Maintenance
Fred Benton – Park Attendant – Eastside
Norman Morgan – Park Attendant – Eastside
Richland Futbol Club
Richland Soccer has a new image, a new name, and a new vision. As Richland Futbol Club, we want to continue to build on our already-outstanding reputation, which starts at our foundation. Therefore, parents, coaches, citizens, we are encouraging you to nominate whoever you think exemplified Richland at its best in last year's fall and/or spring season.
Mississippi Soccer Association recognizes the following awards each year:
Rec. Coach of the Year for a Girls' team
Rec. Coach of the Year for a Boys' team
Competitive Coach of the year for a Girls' team
Competitive Coach of the Year for a Boys' team
Administrator of the Year
Young Referee of the Year
Please send confidential nominations to rfc_president@yahoo.com
or 601-594-0485.
Follow us on Instagram @richlandfutbolclub   and on Twitter   @richland_fc
or checkout our new website www.richlandfutbolclub.com